Less Mess. Less Waste
AdTech wants nothing better than to help you 'make something great'. That's why we work tirelessly to bring you the most innovative and helpful adhesive products in the world!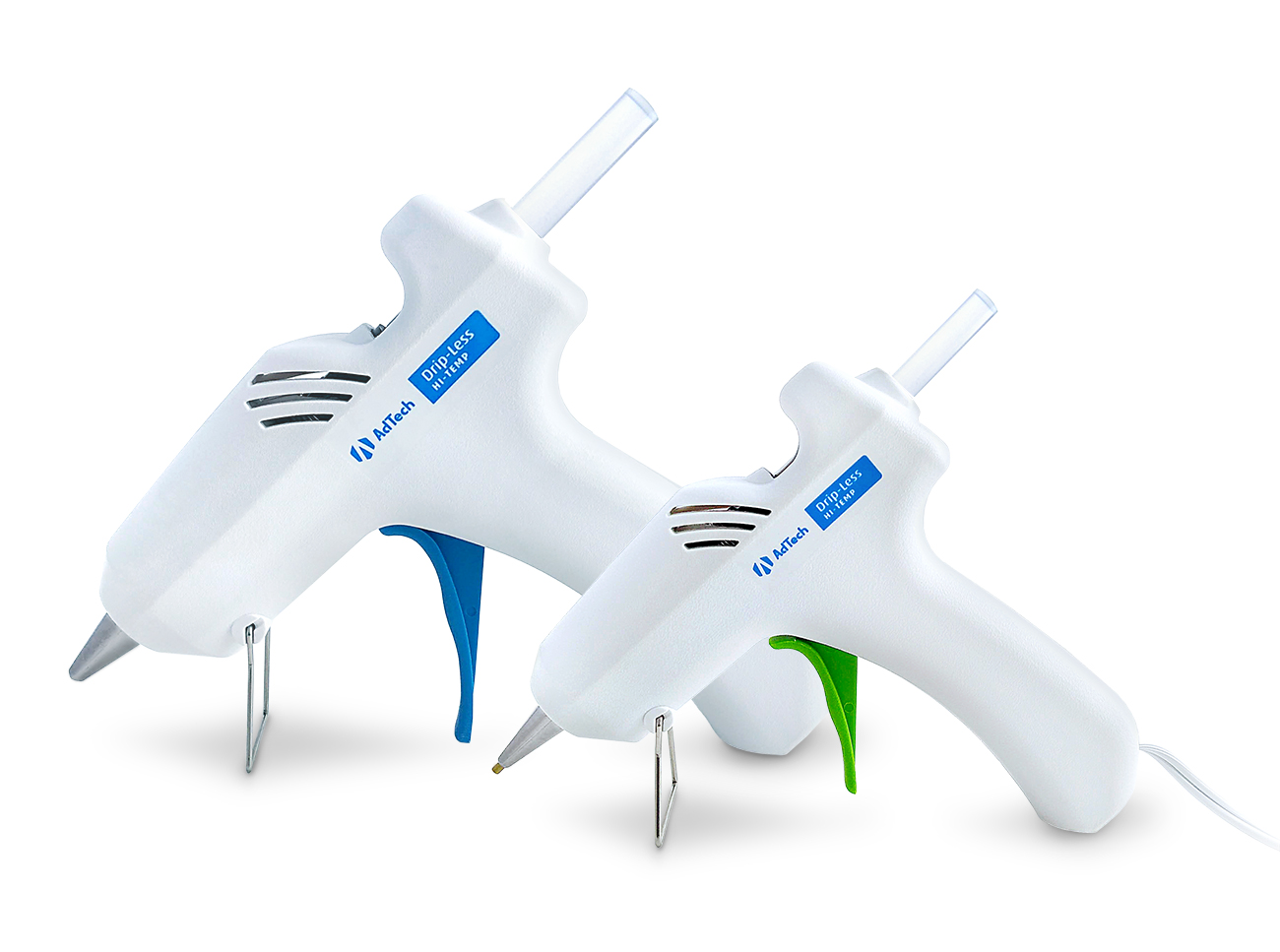 For over 30 years, AdTech has been committed to providing crafters and DIYers with the most innovative and highest quality glue guns and adhesives worldwide. Proud to be THE pioneer in hot melt adhesives and applicators, AdTech delivers yet again with true drip-reduction technology. Our new DRIP-LESS™ glue guns are a joy to use! The patent pending multi-chamber design reduces dripping and stringing, while providing a top-notch gluing experience with more power, faster heating time, ergonomic design, specially engineered nozzles and precise 3-finger trigger.
Our new Drip-Less® glue guns feature a thoughtful new patent-pending design that pulls excess hot glue back into the gun. Users will see up to a 90% reduction in dripping and strings which reduces glue waste and work-space messes.
AVAILABLE IN FULL-SIZE AND MINI-SIZE
REDUCED STRINGS & DRIPS
HIGH-TEMPERATURE DRIP-LESS NOZZLE DESIGN
EASY-SQUEEZE TRIGGER
MORE POWER & FASTER HEATING
METAL EASY-SWING STAND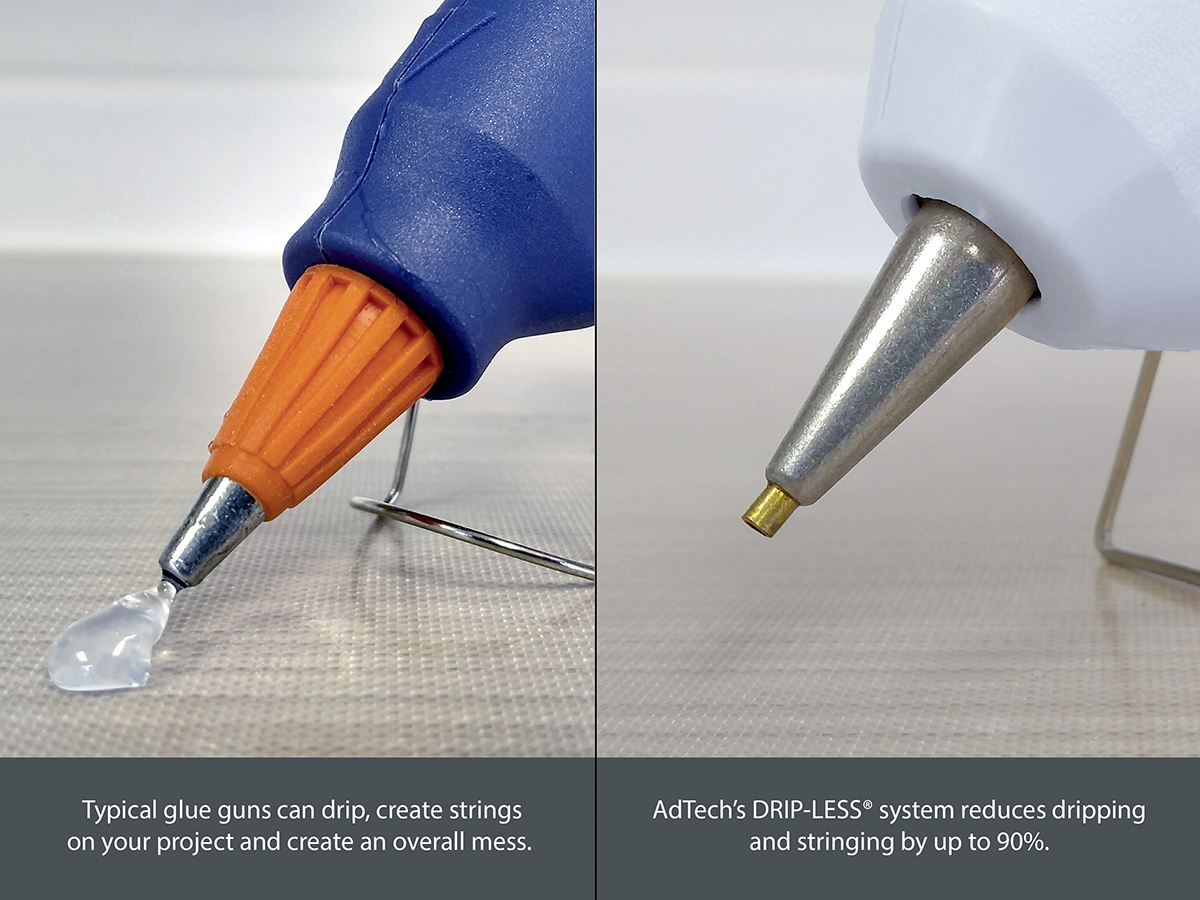 A pleasure to hold and squeeze, the Drip-Less® glue gun features a special ergonomic handle and easy-squeeze trigger. The PTC heater is efficient while giving you 3-6X the power of a typical mini gun. The chrome stand folds back to stay out of your way, and the 5-foot cord gives you room to move around.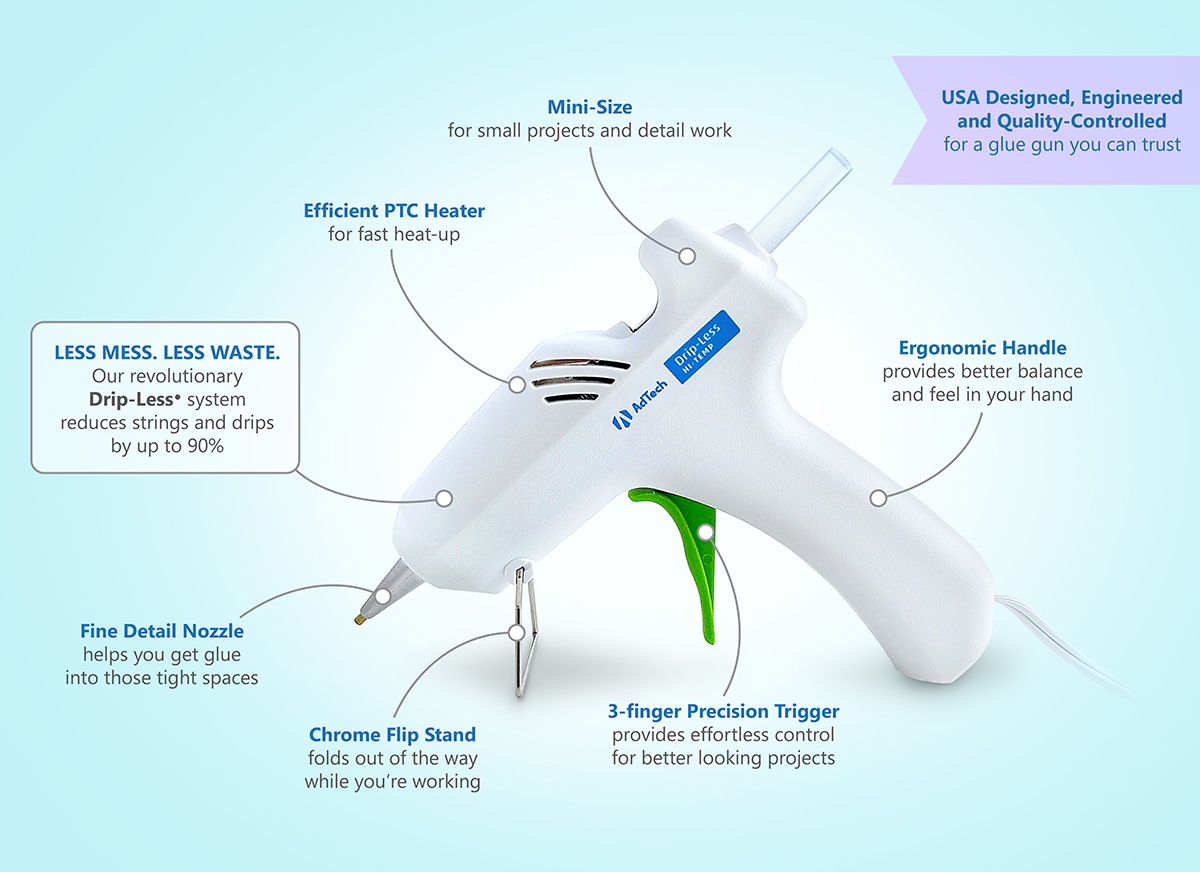 AdTech glue guns are USA-engineered, designed, and quality controlled. You can find the new DRIP-LESS® glue guns at Walmart, Walmart.com and on Amazon.com.
For best results, pair with AdTech's quality, USA-made hot glue sticks.